Lead Management, IDX MLS Broker Reciprocity for your Massachusetts MLSPIN, Cape Cod Real Estate, or Florida Gulf Coast IDX Website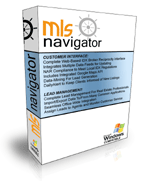 MLS-Navigator is your complete IDX (Internet Data Exchange) Broker Reciprocity & Integrated Lead Management solution. MLS-Navigator is a comprehensive and affordable solution that enables you to optimize your personal or office real estate website in order to gain more leads, improve response time, develop improved organic search engine placement, and grow your business through increased sales. Our custom public website interface allows you to display MLSPIN and/or Cape & Island MLS listings seamlessly within the context of your existing website. You'll also be able to track visitor activity and manage and communicate with your leads thorough our complete lead management system.

March 2009: MLS-Navigator now provides IDX/MLS Broker Reciprocity for Pensacola MLS, Florida MLS and the Emerald Coast MLS including Pensacola Beach, Destin, Gulf Breeze & Peridio Key.

August 2009: MLS-Navigator now provides IDX/MLS Broker Reciprocity for MLSPIN network, including Boston, Massachusetts and much of New England.
MLS-Navigator REALTOR® Subscriber Login:
MLS IDX Solution, Broker Lead Management, MLS Broker Reciprocity - MLS-Navigator

MLS-Navigator saves all user searches, collects the lead contact information and search criteria of all home buyers who have chosen to sign in. This will provide your brokers, your salespeople, and your real estate office with hundreds of hot new leads. With extensive REALTOR® input, MLS-Navigator v.3 has been developed to ensure that you can easily communicate with your leads. The lead management is second to none, allowing lead export and filtering. You can post comments, send single or multiple properties and emails to your clients.

Our application offers many customization options and seamless integration into an office environment allowing leads to easily and automatically be assigned to agents by uptime schedule or automatic rotation. MLS-Navigator is competitively priced and our commitment to service ensures your satisfaction. Turn your website visitors into clients today!

Call us for a free demonstration, 508-945-6443.